What do we do?
ORGANIZATION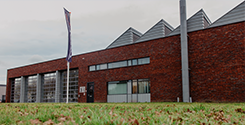 Carmo electronics is an innovative company specializing in motor electronics. Since the foundation in 1994, Carmo electronics has specialized in testing and repairing ignition and injection systems. Carmo electronics develops digital ignition- and injection systems for almost any kind of combustion engines. Making new chip keys (immobilizer systems), flashing ECU´s for better performance and rewinding generators / alternators are also activities of Carmo electronics. Because of its assessment and flexible organization structure Carmo electronics is able to provide customer specific requirements.

RELIABLE PARTNER

The many years of experience and particular knowledge makes Carmo electronics a reliable partner in engine electronics.

Meanwhile customers worldwide take advantage of the service and products which Carmo electronics provides. An in-house located Research & Development division allows Carmo electronics to rapidly supply the needs of development in this specific market. Furthermore it allows Carmo electronics to test brand new technologies and to develop innovative products for consumer- as well as the professional market.

SERVICE AND PRODUCTS

Carmo electronics aims its service and products on the motor electronics of vehicles with a combustion engine. The service can be categorized as follows:

1. Testing and repairing ignition systems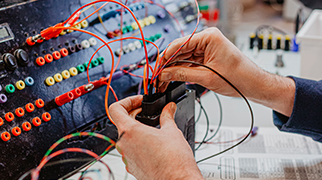 2. Universal replacement ignition systems
3. Programmable ignition- and injection systems
4. Providing new immobilizer chip keys when all keys are lost.
5. Selling Related electronic products
6. Rewinding Alternators / Stators

Ad 1. Testing and repairing ignition systems

When you have a motorcycle with a possibility of malfunction in the electronic ignition/injection system, Carmo electronics advises to test this suspicious part. Testing an ignition/injection system means it will be exposed to all kind of circumstances such as: duration, vibration, temperature, moisture, load, and revolutions. The test results are showed on a supplied graphical presentation. Beside ignition and injection systems Carmo electronics is also capable of testing other electronic components, for example: the generator, rectifier/ regulator, powervalve unit and display units.

Reliable repairing guaranteed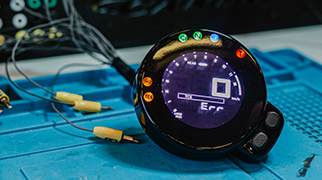 Carmo electronics is able to repair a defective ignition/injection system very accurate and reliable. For this, you only have to send your ignition/ injection system. Carmo electronics has developed a very unique simulation protocol to generate every possible kind of signal your motorcycle may generate. Repair is executed with high-grade parts and guarantees maximum reliability. Repaired units are finished with a very strong and durable coating that protects electronic parts for the influence of extreme weather circumstances.

Always send a clear description of malfunction together with the suspicious electronic part. In this case Carmo electronics guarantees testing, repairing and sending back the unit within 3 days.

Benefits

The main benefit of repairing a unit in contrast with buying a more expensive new one is an indication of the possible cause on the bike that appears from the broken electronic parts. Even if the malfunction is not in the ignition unit, but elsewhere in the electronic system. This information is supplied totally free of charge together with the repaired unit. This way you are able to replace the defective parts in the electrical system of the motorcycle and prevent the unit breaking again. This saves a lot of time and a great deal of unnecessary expense.


Repairing ignition systems of almost any kind of motorcycle is possible, also the so-called potted units. Hard potted units can only be tested. The measure of hardness can be judged by putting a fingernail in the potting. If a mark remains the unit is potted with a soft material that makes repairing possible.

Ad 2. Universal replacement ignition systems

It is not always possible to repair an ignition unit reliable. For example, irreparable damage on a printed circuit board due to burned out electronic parts. Also potted ignition units with a hard material are not repairable. In those cases Carmo electronics can offer a digital replacement ignition. This ignition system has been developed by Carmo electronics. The highest demands on reliability and accuracy will supply optimal performance and withstand severe vibrations and heavy loads. The digital replacement ignition unit is finished with an ultra-strong coating for optimal protection against extreme weather circumstances.

Carmo electronics has digital replacement ignition systems in stock and therefore can supply a digital replacement unit within 3 days.

Advantages

One of the greatest advantages is a digitally programmed accelerate-detection invented by Carmo electronics. Beside the digitally programmed advance/retard mapping the accelerate-detection is supplied standard with a digital replacement ignition unit and considerably improves performance of your motorcycle!

Universal replacement unit: sophisticated software together with high-grade SMD technology makes it state-of-the-art Electronics with minimum dimensions and can be used on almost every motorcycle.

Another advantage of a digital replacement ignition of Carmo electronics is the possible cause of defect that appears from testing the original ignition unit. This in contrast with buying an expensive new ignition. Carmo electronics supplies this information free of charge with purchase of a digital replacement ignition unit.

You have the opportunity to replace defective parts in the electronic system of your motorcycle in advance so that burning out your ignition unit again will be prevented. This will save a lot of time and a great deal of unnecessary expense.

Unlike a new original ignition unit, the digital replacement ignition from Carmo electronics comes with 1 year warranty.

Customer specified solutions

Development of digital ignition systems and particular knowledge of motor electronics enable Carmo electronics to meet customers specific requirements. For example digital replacement ignition units to build on a classic bike with an original mechanical ignition. Advise on eventual necessary modifications on the motorcycle are given free of charge. Do you have a motorcycle with rev- or power-limiter that keeps you from optimal performance? Carmo electronics has the ability to shift the rev-limiter or to remove the power-limiter.

Please inquire for details.

Ad 3: Programmable ignition- and injection systems for Motorsports

Carmo electronics has been active in motorsports since the year 2000 for different vehicles with combustion engines. Ignition- and injection systems are applied successfully in motorcycles, go-karts, scooters, water-jets, quads, trikes and powerboats. For this professional market Carmo electronics has developed full programmable ignition- (ADI) and injection systems (AFI). State-of-the-art motor management systems developed with latest Technologies and high-performance electronic parts to achieve only one goal: squeeze the maximum performance out of your engine!

The programmable ignition- and injection systems are supplied complete with software, program cable and user´s manual. This way you are able to program the system on your own so whatever circumstances you will face, your bike will perform to the maximum level. Time after time. Software provided will run on every laptop or personal computer with rs232 or usb 2.0 (optional usb to rs232 converter available). Are you interested in latest developments of our programmable ADI and AFI systems, please ask for the special leaflet Products Motorsports. Also to be downloaded on our website www.carmo.nl. You will find a comprehensive reference list and you are able to download software for an impression of possibilities.

Carmo electronics has already obtained great results with the Advanced Digital Ignition and the Advanced Fuel & Ignition system. Ten Kate Honda equipped their fast yellow machines with the AFI system since 2000. In the years 2002 and 2003 this successful Dutch team became champion in the World Championship of the Supersport 600.

Ad 4. Related electronic products

Carmo electronics supplies different kind of high-grade electronic parts for motorcycles, such as: generators, rectifier-regulators, ignition coils and high-tension coils. These high quality products have competitive prices and can be delivered from stock within 3 days. Beside the products deliverable from stock Carmo electronics can be of use for particular needs of electronic systems. In those cases Carmo electronics will discuss the possibilities and makes clear agreements about costs and delivery so you will never get a nasty shock. Among these conditions Carmo electronics offers a rewind-service for ignition coils and generators, much cheaper than buying a new one.

Warranty

All products are supplied with high-grade parts and meet the needs of the newest standard of quality. Carmo electronics spends the greatest amount of care for service. This is why Carmo Electronics gives 1 year guarantee on all their products. If the product gets damaged within terms of guarantee it will be fixed totally free of charge.

In case of repair a broken unit or purchase a digital replacement ignition, you will receive a warranty. This warranty together with the invoice has to be saved during the period of guarantee. Only on showing the warranty and invoice Carmo electronics gives you the right of guarantee.

Expert advice

For expert advice or questions about the extensive possibilities and prices you can contact Carmo electronics by phone: +31 492 565220 or check this website.

Best regards,

Team-Carmo