Rewinding
Carmo Electronics offers a rewinding service for rotors, stators, starters etc.
Although we mainly supply new alternators, we also offer the option of revising rotors and stators that are not listed in our catalogue.

Your stator will be stripped to the metal core.
The metal core will be sandblasted and cleaned.
Afterwards the metal core will be coated with an extra thick isolation layer.
The next step is the rewinding of the insolated stator core or rotor.
When the stator is wound with new copper windings, the dynamo goes through final assembly and is coated with a two layer protective coating.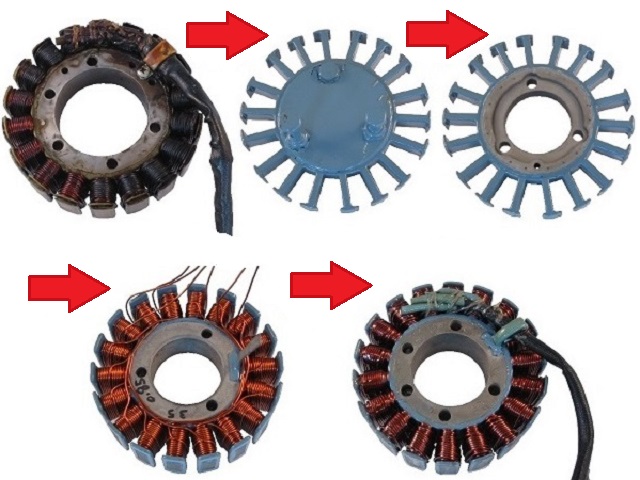 Starters and external alternators (external fan cooled alternators) usually contain bearings, carbon brushes, rectifiers and/or diodes which we will replace if necessary.
We offer a 3 year warranty on this service.
It takes about 1 week to rewind your parts.

Pricelist:
Stator - €199,50
Start engines - We will offer a price after research
(Prices are exclusive) 21% VAT/TAX)
If you want non-standard items to be revised, then the price can be higher.
If this is the case then you will be informed before revision is started.